Specus Corallii
Antonino Cardillo, Trapani, 
Project for the oratory Sala Laurentina of Trapani Cathedral with green gallery of arches, pink rough plaster and limestone enclosure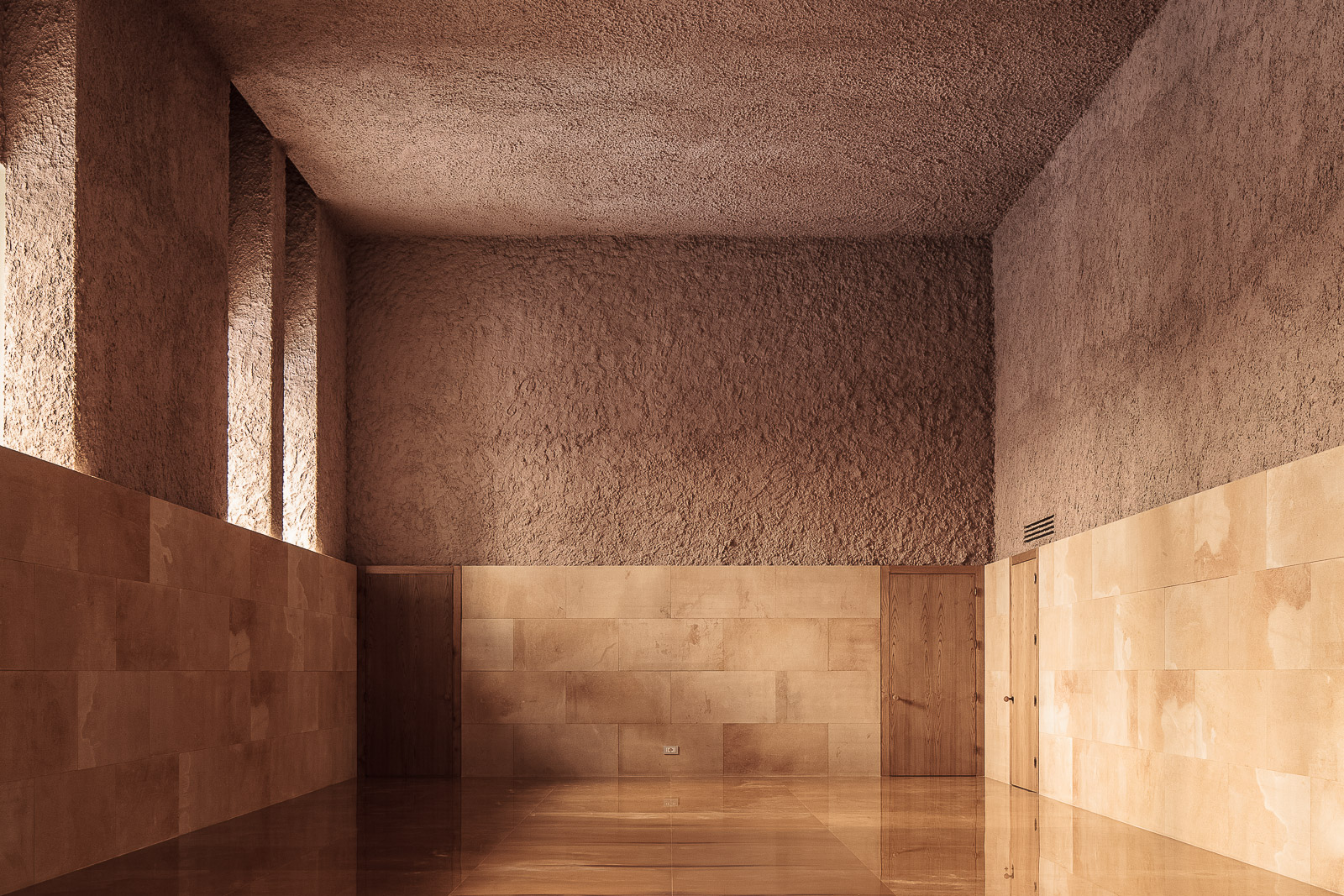 The coral cave is a refuge from the world. A grotto where love can still happen. The place where the city regains its sacral dimension that binds those who were to those who are. The coral cave explores a pre-modern idea: when architecture was imagination and the city was the labyrinth of memory. That labyrinth renewed every day with the caresses of our eyes; that speaks to us, mutedly, of lives lived. The image is the place where the dead speak to the living. Where it confirms the idea of life as permanence and tradition. Without this silent dialogue, the city dies; entertainment and alienation take over neutralizing the subversive potential of love. The coral cave speaks of the sacred that comes from the sea. The cadence of space recounts the allegories of beauty and metamorphosis imaged from shells evoked by the sediments of the stone base, and corals, to whose willowy asperities alludes the pink perpendicular vault. Shells and corals populate the imagery of the town of Trapani. The story of the arrival of the Madonna from the sea and the carved stones of her sanctuary reveal how, along with the tradition of corals, the theme of the shell is a fundamental myth of the sacredness of the city. The colour and tactile surfaces of the Specus rediscover the sensuality of the stone and dust that speak of the place and the bowels of the earth where they were carved. Thus Specus Corallii, with its evocation of a mysterious underwater dimension, relates that imaginary which, from the sea, has sedimented for millennia the sense of the life of the city and its landscape. The coral cave looks like an antique oratory. The classic configuration of its architecture, a rectangle governed by the 'silver ratio', makes it available for different uses and interpretations; preventing the dominance of function and technology, always casual and transitory pretexts for architecture, from bringing about the obsolescence of the work.
Specus Corallii , Cattedrale di Trapani, Oct. 2016, pp. 11‑12.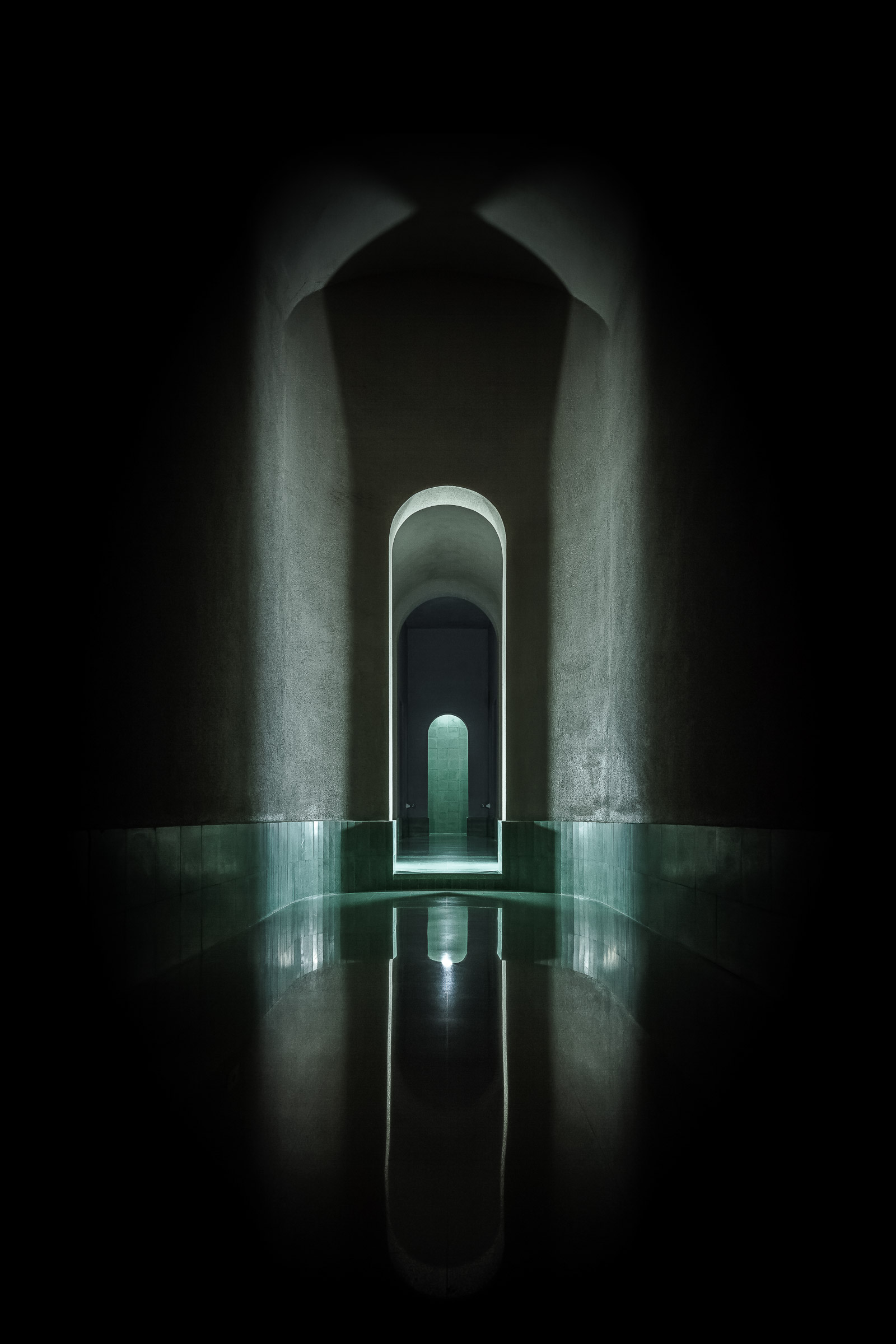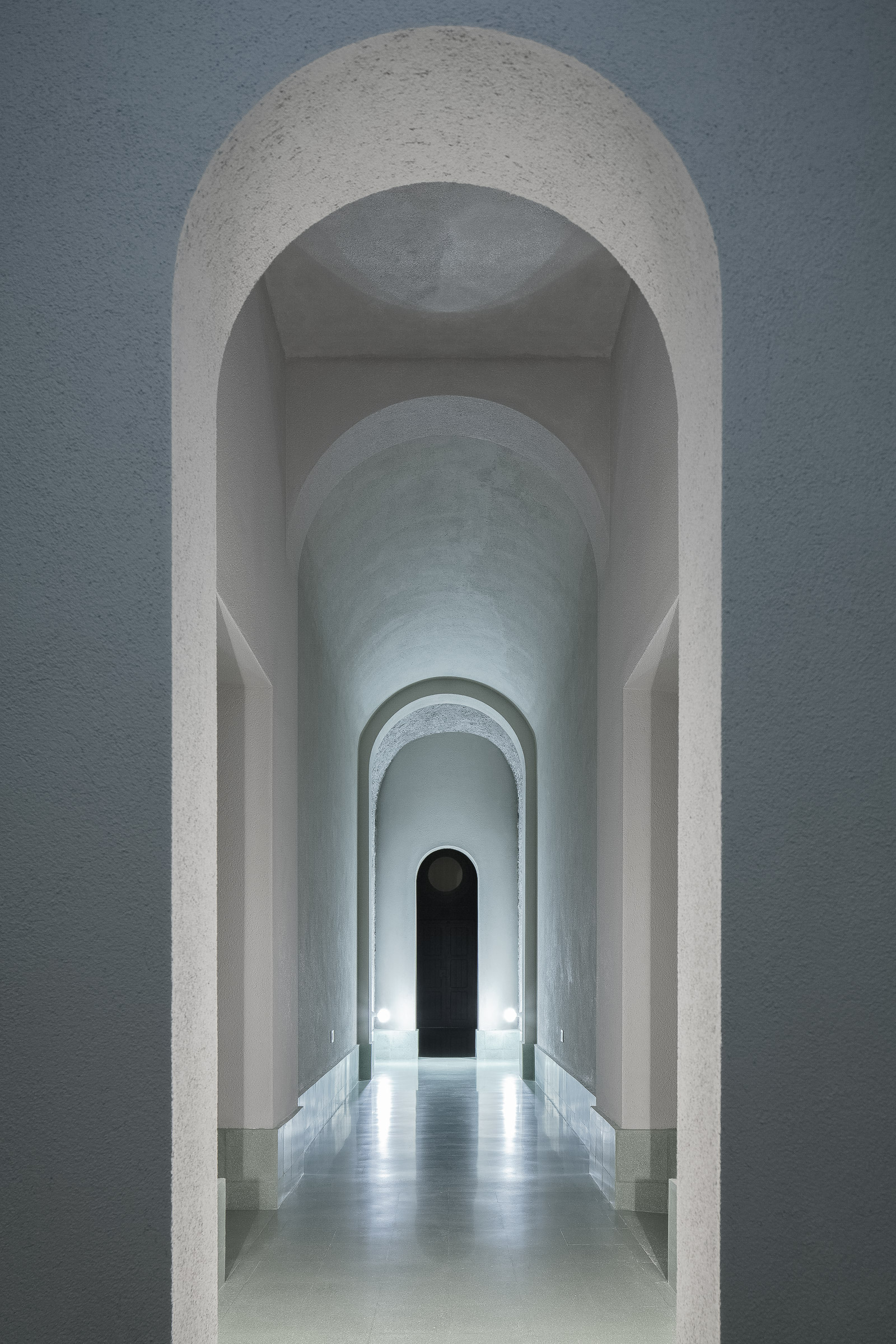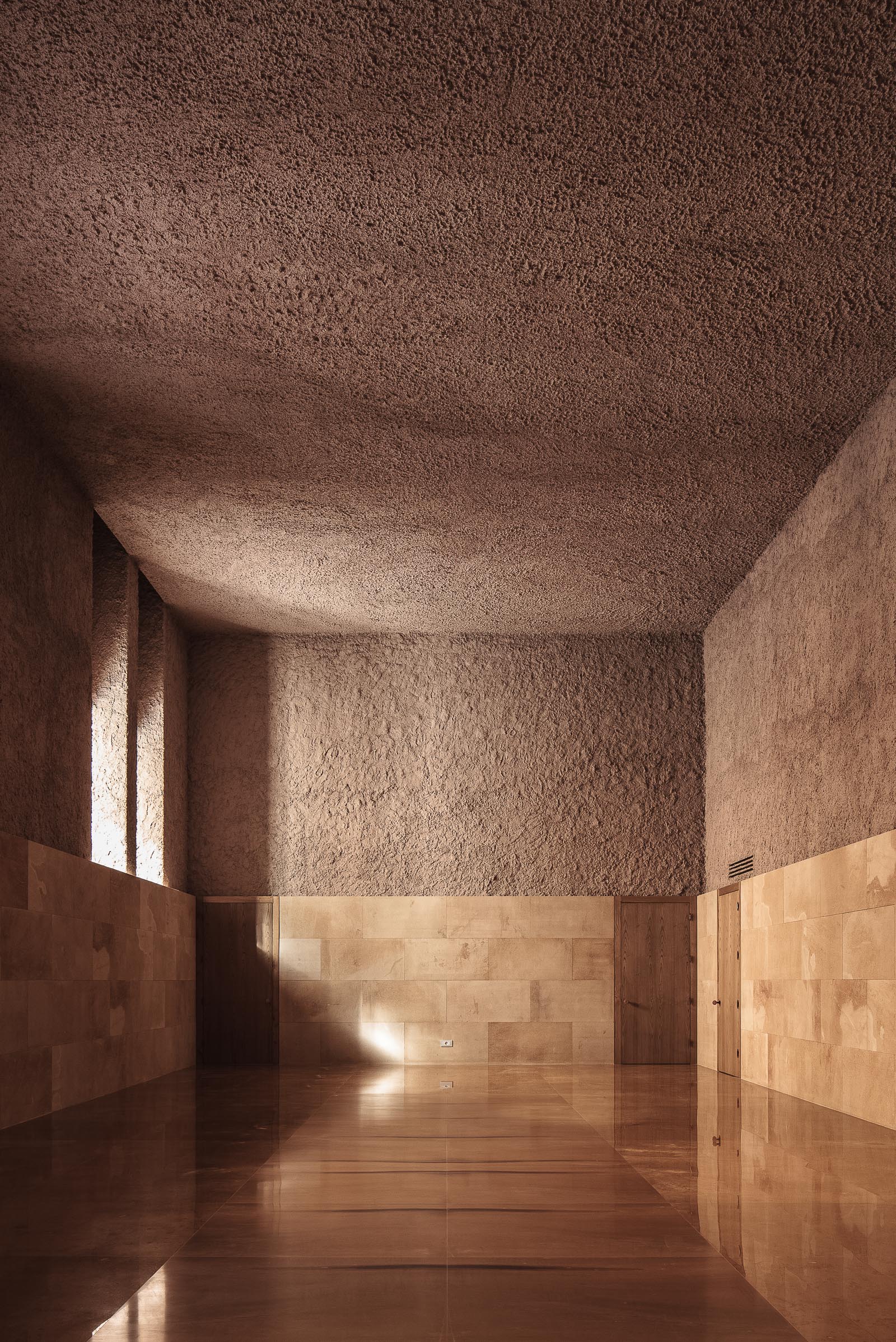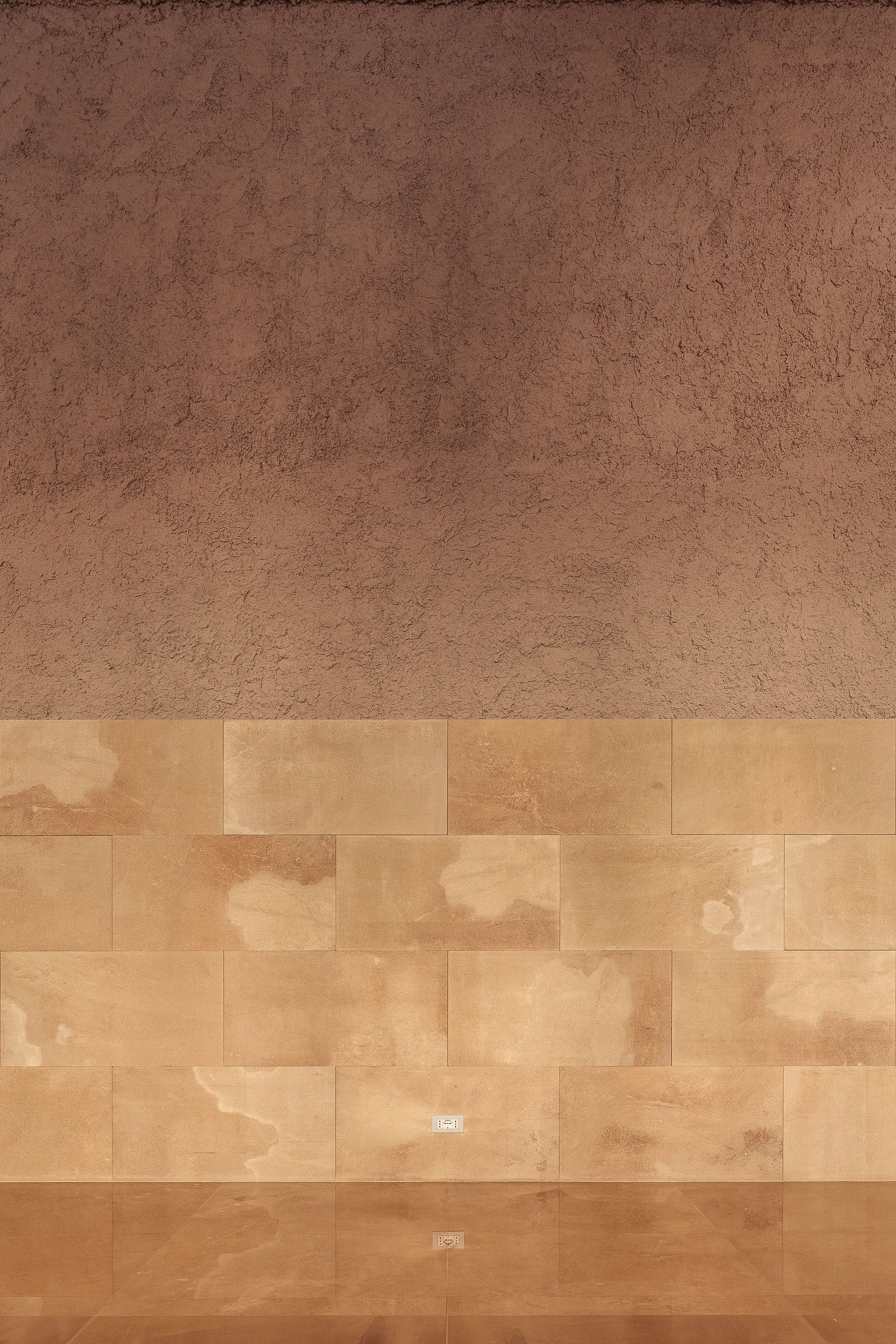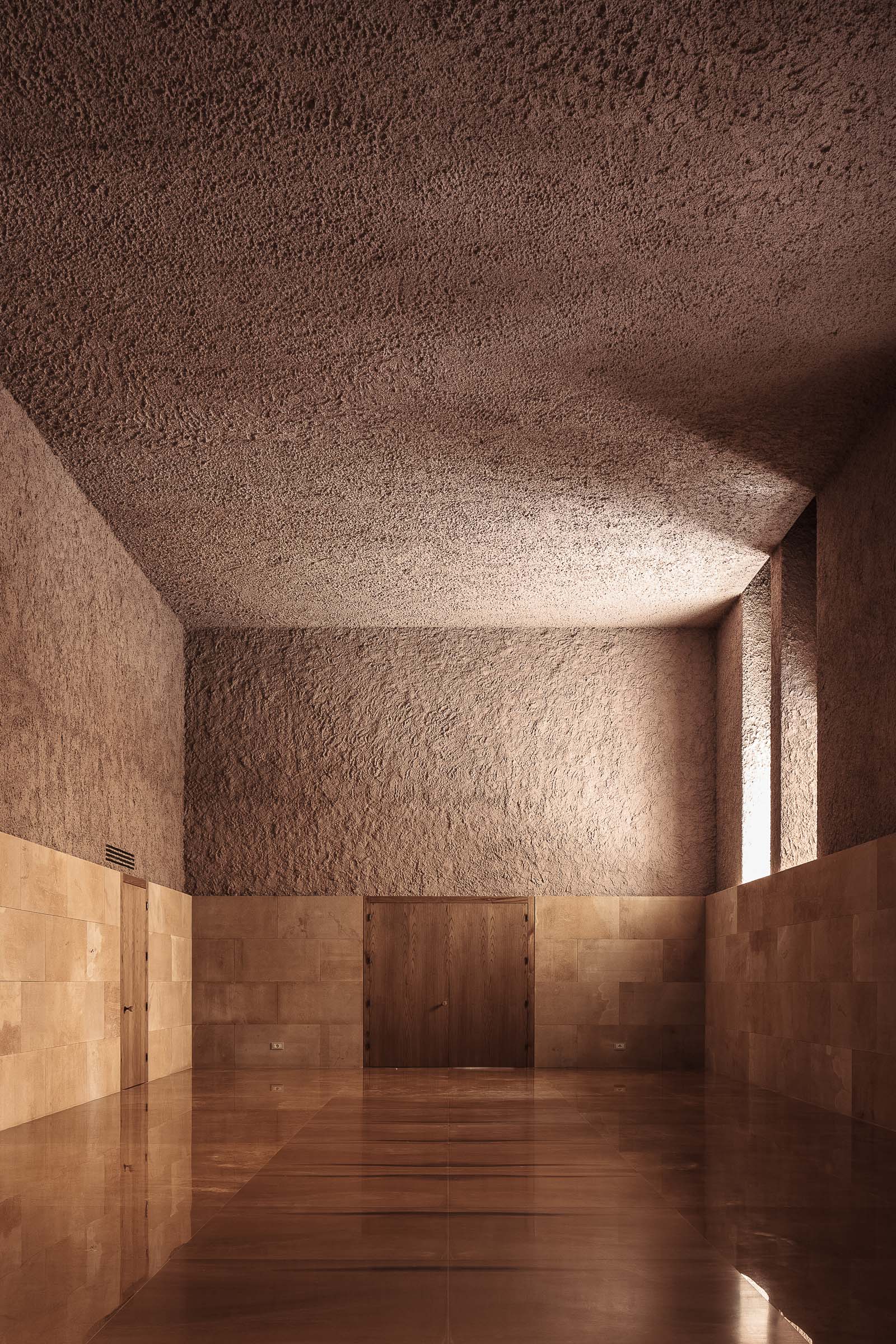 References
Samuel Butler

, Erewhon: or, Over the Range , Trübner and Ballantyne, London, 1872; It. ed. Giovanni Battista Rosa, Erewhon ovvero dall'altra parte delle montagne, Alberto Corticelli Editore, Turin, 1927, pp. VIII-296.

Samuel Butler

, The Authoress of the Odyssey , Longmans, Green & Co., London, 1897; It. ed. Giuseppe Barrabini, L'Autrice dell'Odissea, Robin Edizioni, Turin, 2014, pp. 320.
Data
Time: Jan.–Aug. 2015 (design), Dec. 2015 (text), Jan.–Aug. 2016 (construction), Aug. 2016 (photography)
Place: Sala Laurentina, Via Domenico Giglio, 11‑12, Trapani, Italy
Area: 260 m² (one storey)
Typology: oratory
Credits
Architecture design and construction management: Antonino Cardillo
Client: Consiglio Parrocchiale degli Affari Economici, Cattedrale di San Lorenzo, Diocese of Trapani (director: Gaspare Gruppuso; councilors: Giuseppe Martinelli, Maurizio La Rocca, Giuseppe Chiaramonte, and Mario Ruggirello; secretary: Leo Santi)
Construction foreman: Vincenzo Daidone
Masonry: Mario Daidone, Rocco Maranzano, and Nino Canino
Electricians: Antonio Bica, Giuseppe Oddo, and Antonio Senia
Plumbers: Morici Bartolo and Saverio Gulizia
Pavement installation: Vito Carollo and Daniele Scarlata
Pavement polishing: Antonino Morreale and Davide Morreale
Doors and windows: Paolo Canino and Michael Coppola
Doors and windows painting: Giuseppe Daidone
Stone: Francesco Scontrino
Terrazzo: Pietro Basile
Door handles: GIL (via Handles Roma)
Translation: Charles Searson
Thanks to Cristoforo Anile, Ana Araujo, Salvatore D'Angelo, Claudio Maltese, Pietro Maltese, Rosaria Nicotra, Michele Nucciotti, Aurora Vassallo, and Charles Vella