Ellipse 1501 House (review)
Matt Hussey, Sydney,
Article
The Cool Hunter
Ellipse 1501 House
Here at The Cool Hunter, we strive to bring you the most cutting edge and inspiring pieces of design. From houses to hotels, walls to wine racks, there isn't much we haven't covered. All under the premise, that if we like something, then, maybe you'll like it as well.
But, there comes a time when we're not quite sure. And if we don't like it, why are we telling you about it? This new house designed by Antonino Cardillo has stumped us good and proper. Is it just another vacuous interior that looks an awful lot like a museum? Or is it a very shrewd example of how shapes and colours interact when placed next to each other? Built on a hillside somewhere in Italy, Cardillo has created a concrete ellipse that dilates to the east and west. It also just happens to look like a grey blob squatting on a hill. Inside you're met with an enormous curve that sweeps across the central hall, forcing the eye to look down through the space at the brutal lines of the rest of the house. A smooth exterior hides the phantasmagoria of shapes inside. The other rooms are built around the dramatic opening. A kitchen at one end, the guest room at the other. Up a darkened circular staircase lies the mezzanine bedroom fitted out with the absolute minimal of disruption to the form of the interior. It's all wonderfully cohesive. But at the same time, you can't help but think, "where do all the people go?" The unrelenting stylising says this isn't a space to be lived in. Rather, it's a place to be seen in. But at the same time, you can't help but wonder what life must be like living here. The deep excavations in the outer wall reveal jagged pockets of the outside world at random. Outside, forests and mountains. Inside, lifeless concrete forged into geometric shapes. But the clever thing about the positioning of the windows is, it lets different types of light to fill different parts of the house. Direct sunlight beams into the main hall, while refracted light from trees outside filters into the smaller side windows. Creating instant moods inside according to the weather outside. As this is going on, the building remains in its original essence: colourless or tending to grey. A challenging house that makes you love it for its ingenuity, but hate it for its formality. Either way, we can't decide.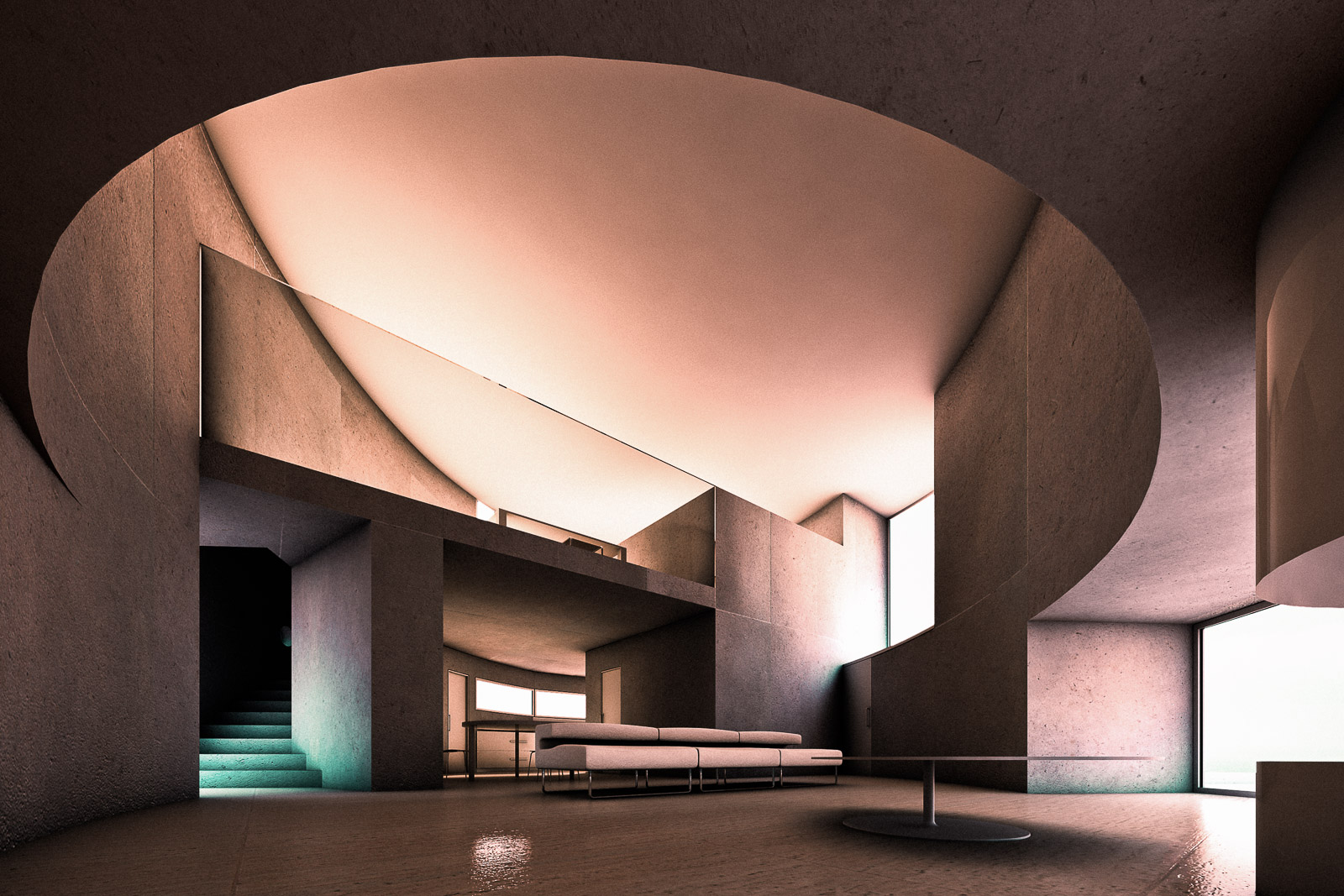 Antonino Cardillo, Ellipse 1501 House, Rome, 2007.