Wallpaper* architects directory 2009
Tony Chambers, Ellie Stathaki, Johnatan Bell, London,
Giving a fresh slant to our edit of the best young architects, we picked our favourite 30 emerging practices and asked them to create their ideal model home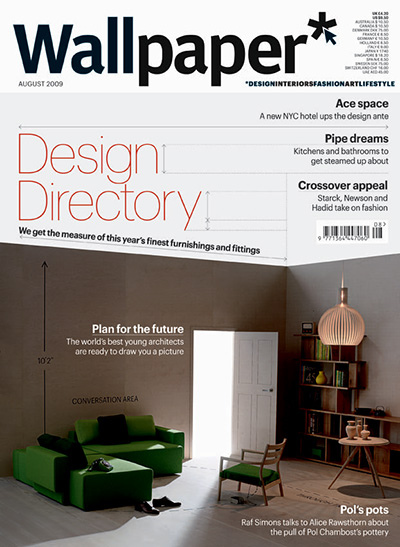 As well as our definitive room-by-room round-up of the latest and greatest designs for your home, we've identified and profiled the world's 30 most talented young architectural practices. Always ambitious and determined to add value, we went that little bit further this year and commissioned each of our 30 chosen ones to not only design their ideal home (a practical, sustainable, functional and elegant residential prototype, adaptable to any plot), but to also produce an exquisitely crafted scale model (no soulless cad drawings allowed). They then had to hop on a train, plane, automobile (or boat) and assemble at our chosen photo-friendly location: David Chipperfield's masterpiece of restrained elegance —⁠ ⁠the reconstructed Neues Museum on Berlin's Museum Island.
Directory
Ellie Stathaki and Johnatan Bell
As if an annual sweep of the world's most promising young architects wasn't ambitious enough, for 2009 we've decided to add a new twist to the directory. Rather than simply report on the newest firms to flash onto our radar, Wallpaper* has commissioned 30 of the finest young architects to design their ideal home. The concept was to create a practical house for tomorrow; a sustainable, functional and elegant residential prototype adaptable to any plot. Here, in David Chipperfield Architects' reconstruction of Berlin's Neues Museum, we show how the class of 2009 rose to the challenge.
Australia, Phorm Architects
Austria, X Architekten
Austria, Propeller Z
Belgium, Bruno Vanbesien architect
Brazil, FGMF Arquitetos
Canada, Reigo & Bauer
Chile, Gonzalez / Larrain Arquitectos
Finland, ALA Architects
France, H20 Architectes
Greece / UK, Divercity architects
India, Anagram architects
Ireland, Tierney Haynes
Japan, Stad
Japan, Cell Space
New Zealand, Andrew Lister Architect
Norway, MIR performing architecture
Poland, Moomoo
Portugal, André de França e Campos
Spain, Arquitecto Martin Lajerraga
Spain, H Arquitectos
Sweden, Marge Arkitektur
Switzerland, Group 8
Switzerland, Jürg Schmid Architekten
UK, Liddicoat and Goldhill
UK, Platform 5 Architects
UK, Gort Scott
UK, STUDIOMAMA
USA, Scot DiStefano architecture
USA, SPG architects New York
Italy, Antonino Cardillo
Ellie Stathaki and Johnatan Bell
A born-and-bred Sicilian with a degree from the University of Palermo, Antonino Cardillo set up his Rome office in 2004. Hugely influenced by his professor, Antonietta Iolanda Lima, he says, "I learned that in space, relations between things are more important than the things themselves." History is another inspiration; he believes that without memory it is impossible to build for the present, and sees good architecture as an element that can unite people. Inspired by private-garden fences spread across Marrakech's dry plains, Cardillo's residential proposal is called Lime and Limpid Green House. Exploring the history of courtyard houses, he was challenged to define the notions of external and internal. The result was a home with a large patio, like those found in cities of the pre-modern Mediterranean. Currently, Cardillo is designing a private residence in Melbourne. He cherry-picks his projects, admitting his ideas might not suit everyone. "In my houses, the interactions with environmental events such as sun, rain, wind and sounds are more important than objects or furniture."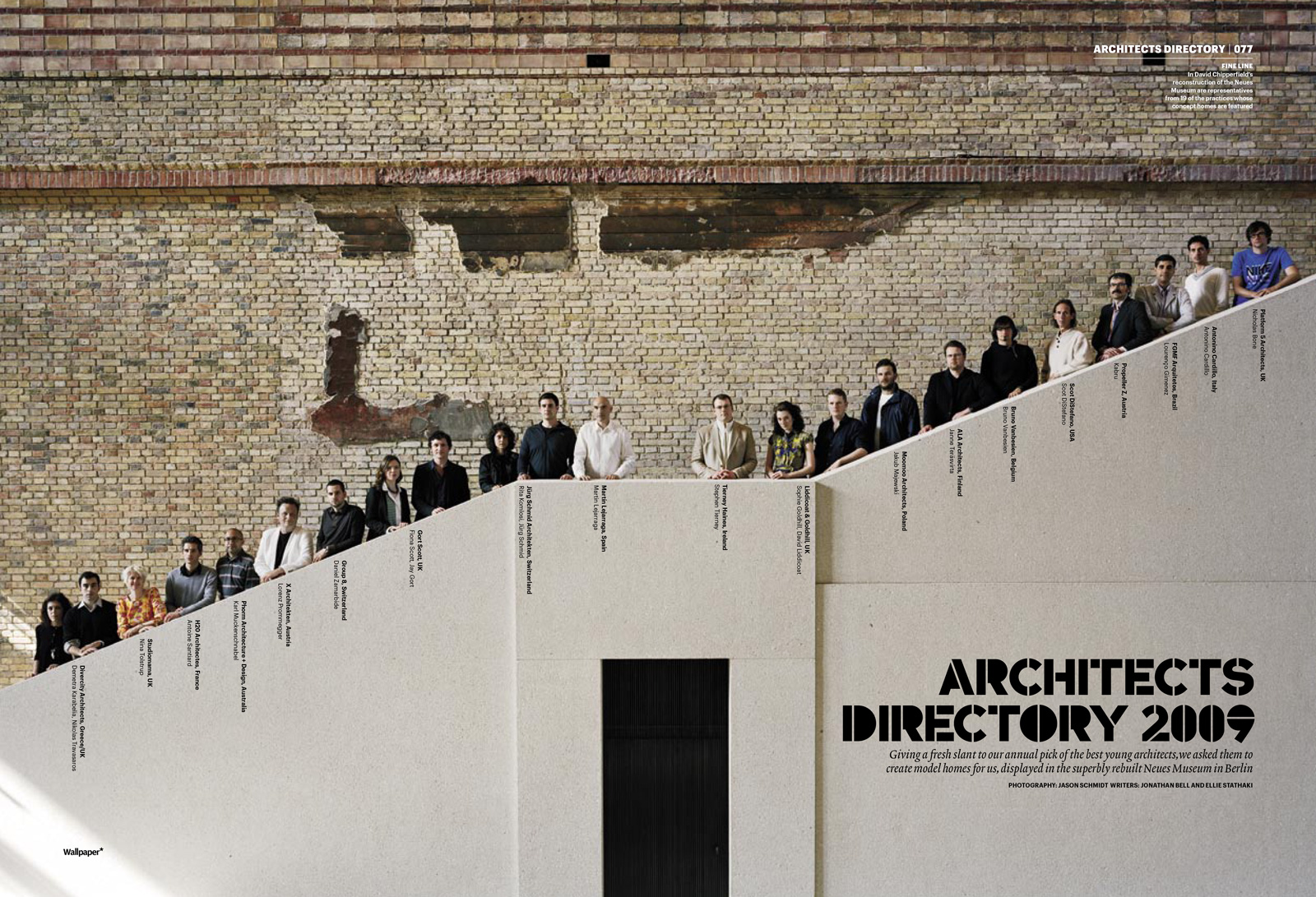 Wallpaper*, no. 125, pp. 76‑77. Photography: Jason Schmidt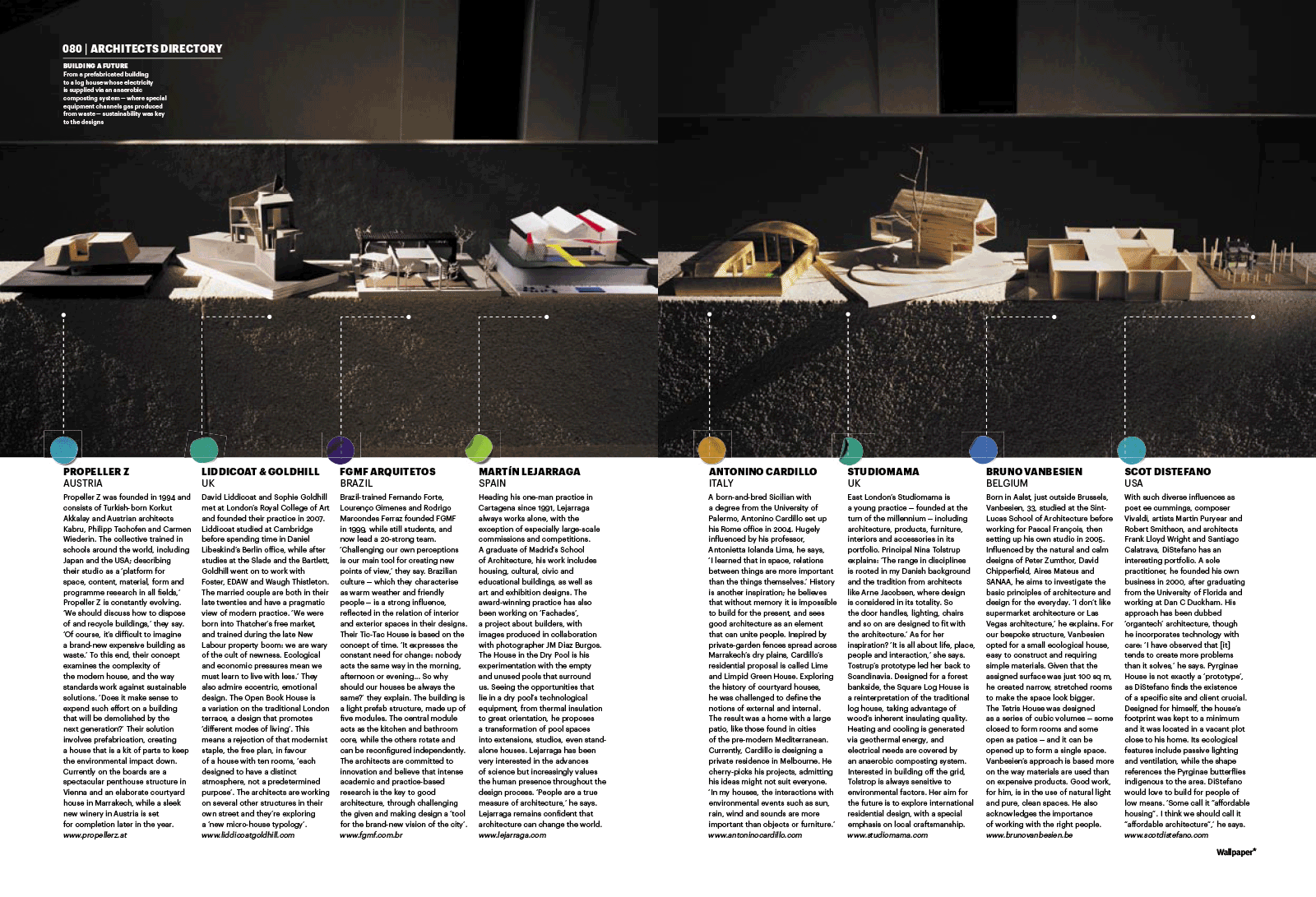 Wallpaper*, no. 125, pp. 80‑81. Photography: Jason Schmidt
Source
Tony Chambers, Jonathan Bell, Ellie Stathaki

, 'Architects directory 2009' 

(pdf)

, Wallpaper*, no. 125, eic. Tony Chambers, London, Aug. 2009, pp. 74, 76‑77, 81.