Emotional space
Antonino Cardillo, with Jakkrit Angsutti, Bangkok,
Antonino Cardillo… you may have been familiar with this Italian name before as few of his works have recently appeared in our pages. Now it's time to sit back and listen to what he says. Get to know the architect who was once a Frank Lloyd Wright fan, now still fascinated by the theme of residence, and believes you can evaluate an architect from a single house. This is the energetic young architect who believes in the power of history of mankind, love, sunlight and music!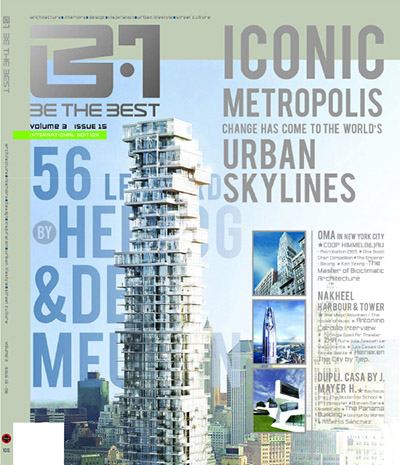 Could you try to describe the type and range of architecture you design?
When I was studying at university I was in love with Frank Lloyd Wright's architecture. I was crazy about him. Now I'm not sure about that language any more, but I'm still fascinated by the theme of residence. From my point of view the single house is an indicator by which to evaluate an architect. For example I believe that the most inspiring works of Frank Gehry are the houses he built in Los Angeles in 1980s, and the Schnabel House is my favourite. Lastly, on a small, private scale it is possible to get rid of economic pressure which often pushes the design towards the dangerous roads of marketing.
How would you sum up your design approach?
I design houses for clients who love to live their life inside contemplative spaces, which express my personal point of view about history and our world. But I know full well that my houses aren't for everybody. My architectures need a different way of inhabiting the house, maybe a more evolved way of living contemporary life: more aesthetical, frugal and poetic too. Therefore in my house the interactions with environmental events such as sun, rain, wind and sounds are more important than objects or furniture. From my point of view a contemporary house shouldnt' be a collection of several objects. But if you are a fashion victim I believe that all this will not be for you. I love to think that architecture is like music which when it is in equilibrium needs nothing more.
Can you describe your design process from idea through to presentation?
I believe that my architectures are born from a fusion of different fragments seen or heard in several places. They represent my personal comment or interpretation of reality. Usually, I begin to work upon a project and during the process, at an unpredictable moment, something happens in my mind and the idea comes out. It almost certainly isn't a rational or logical process and I believe that, to be able to capture this irrational process of synthesis formed by the mind, it's very important to stay relaxed and open. So I love to take inspiration going out of my office. I prefer to think while losing myself between ancient Roman labyrinths, analyzing the sunlight that changes the spaces. Usually, the best ideas come to me when I'm breathing in a beautiful place.
Which of your design projects do you like most? Why?
The latest one. Currently I'm working on a house in Melbourne. Inspired by the compositions of John Foxx about reverberating soundscapes, I'm trying to create an acoustical space, where the sunlight reverberates inside it like the sound can reverberate inside a musical instrument. To do it I'm also making a fusion of several previous concepts which I elaborated for other residences of mine.
What or who has influenced your work most deeply?
The history of mankind. I love history and I also believe that to become an interesting architect it's preferable to know the past well. Without memory it is impossible to build a credible present or future. The most serious risk for our present is to repeat the recent past in a loop of banality. I think that the inability to follow new directions comes from an ignorance of history.
What human emotions and necessities drive your design?
Love. It could seem a bit stupid or obvious, but in this highly sophisticated epoch of ours I believe that love is the real positive connection that can move the world forward. This is especially true of architecture. When diverse positions not only meet, but they love each other, then there are born new languages. Following this path I could say that the most fertile architecture of the past has always been a giant and sexually emotional act between different cultures: therefore a great architect should always be a great lover.
Is your work an individual statement or a team solution?
At the first stage it is individual. I need silence and solitude to create. Later, during the work, I'm supported by various local consultants.
How important are trends in your work?
Of very little importance. I'm more interested in permanent ideas than momentary trends.
In your opinion, where is architecture today, and what is a good architecture for the world of the future?
I believe that contemporary architecture tends to become mainstream. If you compare musical and architectural statements you can see the gap. Contemporary music is able to hybridize different cultures creating many original languages. Sadly this does not happen in architecture. Perhaps because architecture comes out of a vigorous economic process and money gets rid of artistic ambitions. Such contemporary projects seem increasingly deja vu.
What elements of the design process do you find particularly frustrating?
Designing in Italy. It's frustrating because usually people don't understand contemporary design. I definitely prefer working with clients in other countries.
Is there something you'd really like to design?
A contemporary architecture within ancient Rome, but it would be very different from Richard Meier's Ara Pacis. Rome deserves something more profound than a dated neoplastic game.
What do you think are some of the most important things in life that inspire you to do the work that you do?
Sunlight. When I design I like to think of making love with the sun. Therefore I cannot live further north than the 41st parallel.
If, for some reason, you could keep only 1 book, 1 movie, and 1 song, what would they be?
El Ingenioso Hidalgo Don Quijote de la Mancha by Miguel de Cervantes Saavedra, Solyaris by Andrei Tarkovsky, and 'Michelangelo Antonioni' by Caetano Veloso.
What would be your second career choice after design?
Musician. Music is the twin sister of architecture, I love it and it inspires me every day, definitely more than contemporary architecture.
Can you give us the definition of 'Be The Best' in your personal dictionary?
Having the courage to discover ourselves through others.
Page 94 of B1 Magazine no. 15
Source
Antonino Cardillo

, 'Emotional space' 

(pdf)

, B1 Magazine, no. 15, ed. Jakkrit Angsutti, Bangkok, Jan. 2009, pp. 94‑99.