The alternative
Antonino Cardillo, London, 
Antonino Cardillo publishes his manifesto on the Fulcrum folio by Jack Self printed by the School of Architecture Architectural Association in London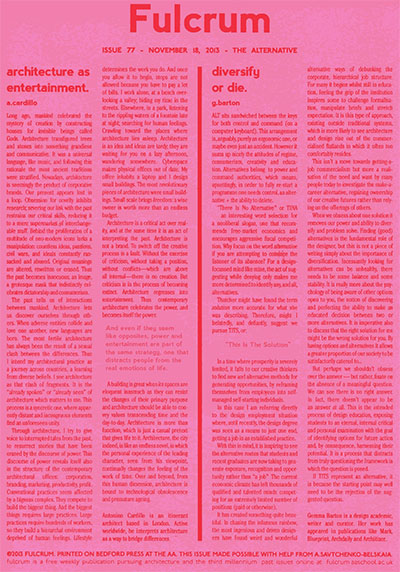 Long ago, mankind celebrated the mystery of creation by constructing houses for invisible beings called Gods. Architecture transfigured trees and stones into something grandiose and communicative. It was a universal language, like music, and following this rationale the most ancient traditions were stratified. Nowadays, architecture is seemingly the product of corporative brands. Our present appears lost in a loop. Obsession for novelty inhibits research; severing our link with the past restrains our critical skills, reducing it to a mere supermarket of interchangeable stuff. Behind the proliferation of neo-modern icons lurks a manipulation: ideas, passions, civil wars and ideals are constantly ransacked and abused. Original meanings are altered, rewritten or erased. Thus the past becomes innocuous, an image that celebrates consumerism.
The past tells us of interactions between mankind. Architecture lets us discover ourselves through others. When adverse entities collide and love one another, new languages are born. Thus I intend my architectural practice as a journey across countries, a learning from diverse beliefs. I see architecture as a collision of fragments. It is the 'already spoken' or 'already seen' of architecture which matters to me. This process is a syncretic one, where apparently distant and incongruous elements find an unforeseen unity.
Through architecture, I try to give voice to interrupted tales from the past, to resurrect stories that have been erased by the discourse of power. This discourse of power reveals itself also in the structure of the contemporary architectural offices: corporation, branding, marketing, productivity, profit. Conventional practices seem affected by a bigness complex. They compete to build the biggest thing. And the biggest thing requires large offices. Large offices require hundreds of workers, so they build a hierarchal environment deprived of human feelings. Lifestyle determines the work you do. And once you allow it begin, stops are not allowed because you have to pay lot of bills.
I work alone. At a bench overlooking a valley; biding my time in the streets. Elsewhere, in a park, listening to the rippling waters of a fountain late at night; searching for feelings. Crawling toward the places where architecture lies asleep. Architecture is an idea and ideas are tardy; they are waiting for you on a lazy afternoon, wandering somewhere. Internet makes physical offices out of date. My office inhabits a laptop and I design small buildings. The most subversive pieces of architecture were small buildings. Small scale brings freedom: a wise owner is worth more than an endless budget.
Architecture is a critical act over reality and, at the same time, it is an act of interpreting the past. Architecture is not a brand. To switch off the creative process is a fault. Without the exercise of criticism, without taking a position, without conflicts —⁠ ⁠which are above all internal —⁠ ⁠there is no creation. But criticism is in the process of becoming extinct. Architecture regresses into entertainment. Thus contemporary architecture celebrates the power and becomes itself the power. And even if they seem like opposites, power and entertainment are part of the some strategy, one that distracts people from the feelings of life.
A building is great when its spaces are eloquent inasmuch as they can resist the changes of their primary purpose. Architecture should be able to convey values transcending time and the day-to-day. Architecture is more than function, which is just a casual pretext that gives life to it. Architecture, the city indeed, is like an endless novel, in which the personal experience of the leading character, seen from his viewpoint, continually changes the feeling of the work of time. Over and beyond from this human dimension, architecture is bound to technological obsolescence and premature ageing.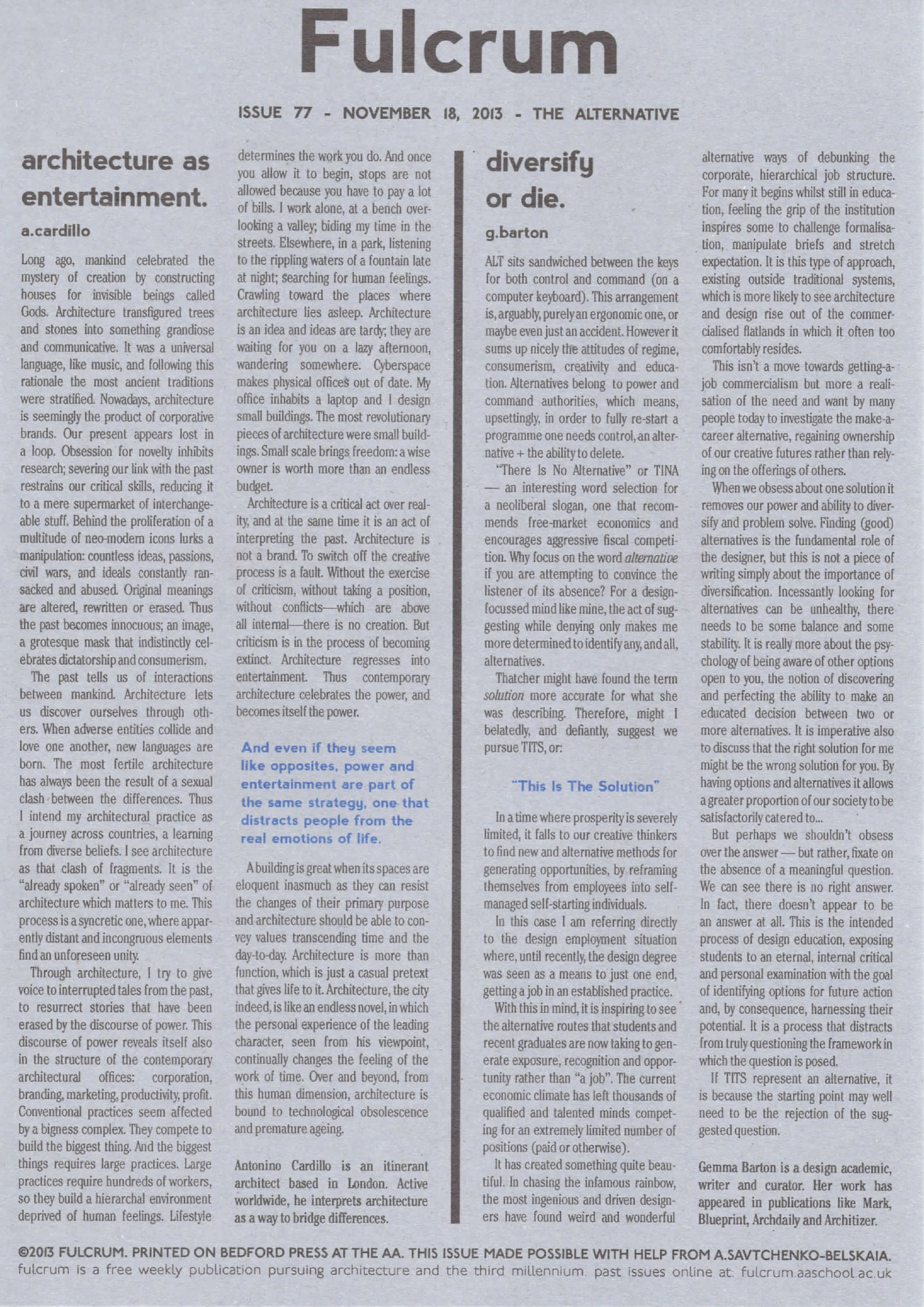 Fulcrum, no. 77, AA School Press.
Source
Antonino Cardillo

, 'The alternative' , Fulcrum, tr. Charles Searson, no. 77, AA School Press, London, 18 Nov. 2013, p. 1.