False friend
Antonino Cardillo, [text], Baunetzwoche, ed. Kristina Herresthal and Lisa Kadel, BauNetz, Berlin, 26 March 2015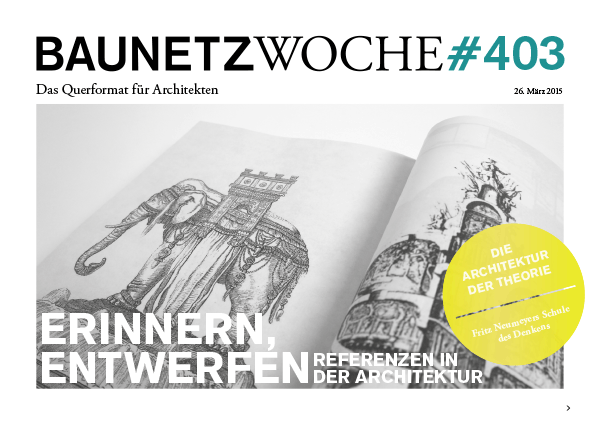 Baunetzwoche 403
References
By Antonino Cardillo
I see references connected to the ideas of permanence and tradition. We are definitely sons of someone who time ago became dust. I do not see division among him and us. Each act of beauty is a gentle message toward death. Any act of beauty is a shard of love en route for a stranger. Any fragment of past beautiness is part of our memory, giving sense to the permanence of the mankind on the Earth. Thus references can become testimonials of love, beyond the death.
On the contrary, when references are deprived of love, when references are intended as intellectual quotations, they turn in fetishism, alienation, entertainment, things which trivialize the feelings of the life.
Past year I designed seven sculptures for the Sir John Soane's Museum of London. Min investigates the origin of the sacred. There I conveyed diverse references synchronised in a single shard of mineral stone. Min is about permanence of life.
Text written in Soluntum of Sicily
Source
Antonino Cardillo, 'Falsche Freunde', Baunetzwoche, no. 403, ed. Kristina Herresthal and Lisa Kadel, BauNetz, Berlin, March 2015, p. 25.
Tr. Paula O'Brien