Postmodern Cafe
Antonino Cardillo, London, 
Project for the London Design Festival entrance to the Victoria & Albert Museum exhibition Postmodernism: Style and Subversion 1970–90
Mies + Venturi. Modern in plan and 'Post' in elevation, Postmodern Cafe is a divertissement, a quest between Ludwig Mies van der Rohe and Robert Venturi.
Urban baroque strategy. Two façades capture glances across the V&A's 1970s Exhibition Road hall.
Symmetry and negation. Although symmetrical, they are perceived from diagonal points of view. The front view seems to be denied by the pathway.
Inflection. On the façades, figures converge toward the centre. Though symmetrical overall, each side is unequal.
Archetypes. Like huge frescoes, the façades recall the pre-modern bond between painting and architecture. Vinyl graffiti refigure themes of Tympanum and Arch: two contrapositive triangles in a Suprematistic broken tympanum and a stretched arc framing a shard of the Aston Webb screen behind.
Stripes. Crossing the space, there are stripes everywhere, evoking ephemeral structure on a shoreline and retroactive presages close to Gio Ponti and Postmodernism: Art is fluid. Although categorised, it escapes boundaries.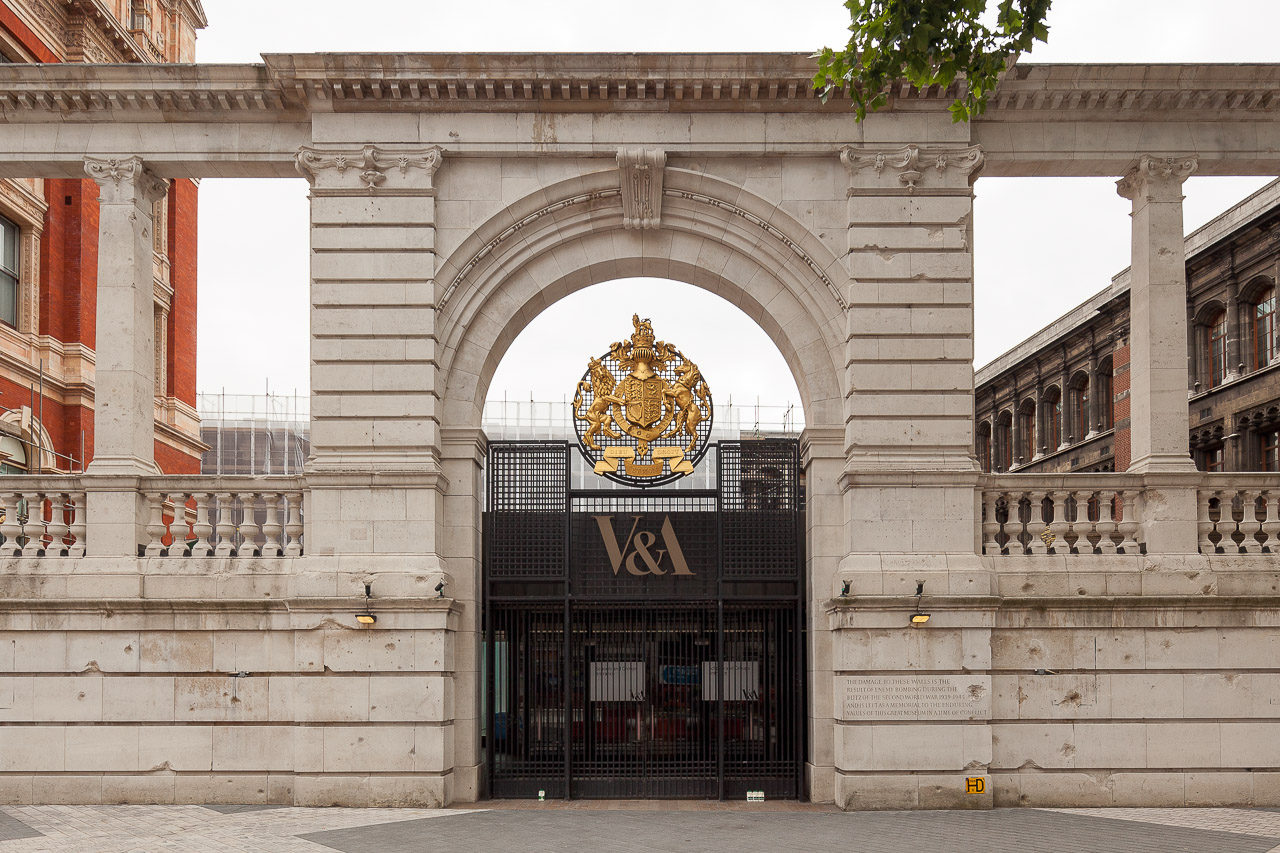 Data
Time: July‑Sept. 2011
Venue: Victoria & Albert Museum, Exhibition Rd, South Kensington, London, UK
Area: 250 m²
Typology: reception/bar
Credits
Architecture design: Antonino Cardillo
Client: London Design Festival (via Suzanne Trocmé; director: Ben Evans; deputy director: William Knight; project manager: Ruth Dillon; festival assistant: Siobhan Henderson and Enis Karavil; consultant curator: Suzanne Trocmé; head at the V&A: Victoria Broackes; officier at the V&A: Sophie Reynolds)
Translation: Charles Searson