From boutique to gallery: fashion, art and architecture
Mitchell Oakley Smith, Alison Kubler, London, 
Temporary Sergio Rossi menswear boutique, designed by architect Antonino Cardillo as part of the Salone del Mobile, Milan, 2010, in collaboration with Wallpaper* magazine
The close relationship between art and fashion is increasingly reflected in the built environment. Luxury fashion brands now regularly collaborate with award-winning architects to create unique retail stores, art museum and temporary structures to exhibit their goods. These architectural commissions are part of a wider 21st-century trend in which large luxury fashion conglomerates —⁠ ⁠most prominently LVMH (owner of Louis Vuitton, Givenchy and Christian Dior), Kering (Saint Laurent, Gucci and Balenciaga) and Richemont (Dunhill, Cartier and Montblanc) —⁠ ⁠are increasing their involvement in the art world, both financially as patrons and creatively as collaborators.
As part of the 2010 Salone del Mobile in Milan, the annual international design fair, Sicilian architect Antonino Cardillo was engaged to create a temporary men's boutique for Italian footwear maker Sergio Rossi at the initiative of design magazine Wallpaper*. The ephemeral shop, built within the brand's permanent store in Milan, remained open for two seasons before embarking on a world tour to promote the Sergio Rossi men's collection. Each stage of the tour was marked by a unique store configuration, such as in the Galeries Lafayette Casablanca in Morocco, where Sergio Rossi commissioned local firm Younes Duret Design to create a three-dimensional shelving system in which to display the footwear.
Cardillo's design centred on the concept of superimposition, the insertion of one building into another, a recurring theme in architecture of the past, seen, for instance, in the medieval schola cantorum of the Basilica di Santa Maria in Cosmedin in Rome, and in the miniature replica Holy Sepulchre that the 15th-century architect Leon Battista Alberti installed in the Tempietto in Florence. For the first incarnation of his temporary structure in the Sergio Rossi boutique in Milan, Cardillo made use of the existing store space, articulated by a grille of exposed wooden beams to create a rhythmic sequence of vertical planes suggestive of cathedral vaulting, employing light grey tones and velvet curtains in the decor. A marriage of the sacred and profane, the design was intended both to augment and disrupt the reverence with which fashion products are presented and viewed in shops. The shoes themselves were displayed sparingly on tall plinths, lit theatrically with downlighting, emphasizing the museum-like quality of the space and bringing additional gravitas to the shopping experience.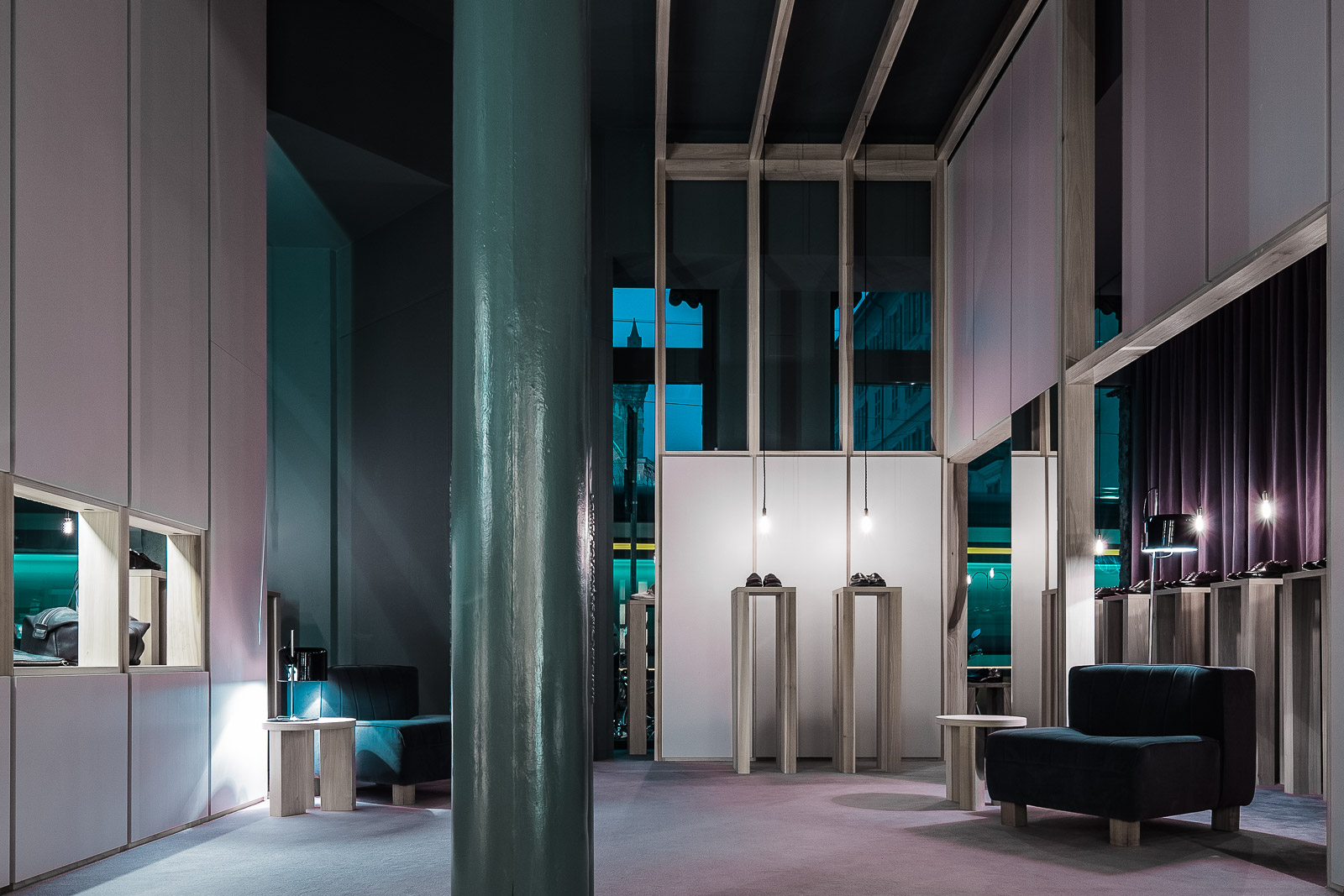 Antonino Cardillo, Akin to a Cinema Set, Sergio Rossi‑Wallpaper*, Milan, 2010. Photography: Antonino Cardillo