The memories within architecture
Andrea Chiu, Taipei City, 
How can architecture reconcile certain memories? Recent works by two world-renowned architect, Antonino Cardillo and Yung-Ho Chang, reveal traces of memories contained within architecture
Since Antonino Cardillo is hailed as an impressionist architect, then we should indeed talk about Impressionism. In fact, art critic Louis Leroy coined the term "impressionist" to satirize artists now known by this term. In 1874, Louis published a newspaper article titled 'Exhibition of impressionists', in which he mocked Monet, Gauguin, Cezanne, and other artists. He stated that, like Monet's painting, Impression, Sunrise, works by these artists were all painted based purely on impressions. Therefore, he called such artists 'impressionists'. The greatest impact that these impressionist artists have had on art was that their belief that all paintings serve as representations of light. Hailed as an impressionist architect, Antonino Cardillo creates works of architecture that capture the flow of time with its light and shadow effects. Antonino's Purple House is a residence located in Pembrokeshire of England. The work seems to be a giant sculpture, making it a landmark that stands out from its natural surroundings. What cannot be ignored is the level of light and shadow that naturally flow over the house and create a sensation of time. The curved structure in the living room blocks sunlight from entering during noon, while the stairway carved into the massive wall draws light into the house. During dusk, the lobby becomes dim, while the dome glows like a hot brazier. The stone, concrete, and purple colors endow this building with an unpredictable amount of change. On the other hand, the Purple House reveals a lineage that comes from the Norman architectural style. Antonino attempts to ask: "Where is the exchange between England, Wales, Ireland and Sicily?" During Roman times, the Byzantine Empire and Arabic culture made its way to the island of England, forming the foundation to modern Europe. The massive wall and dome reminds one of this history.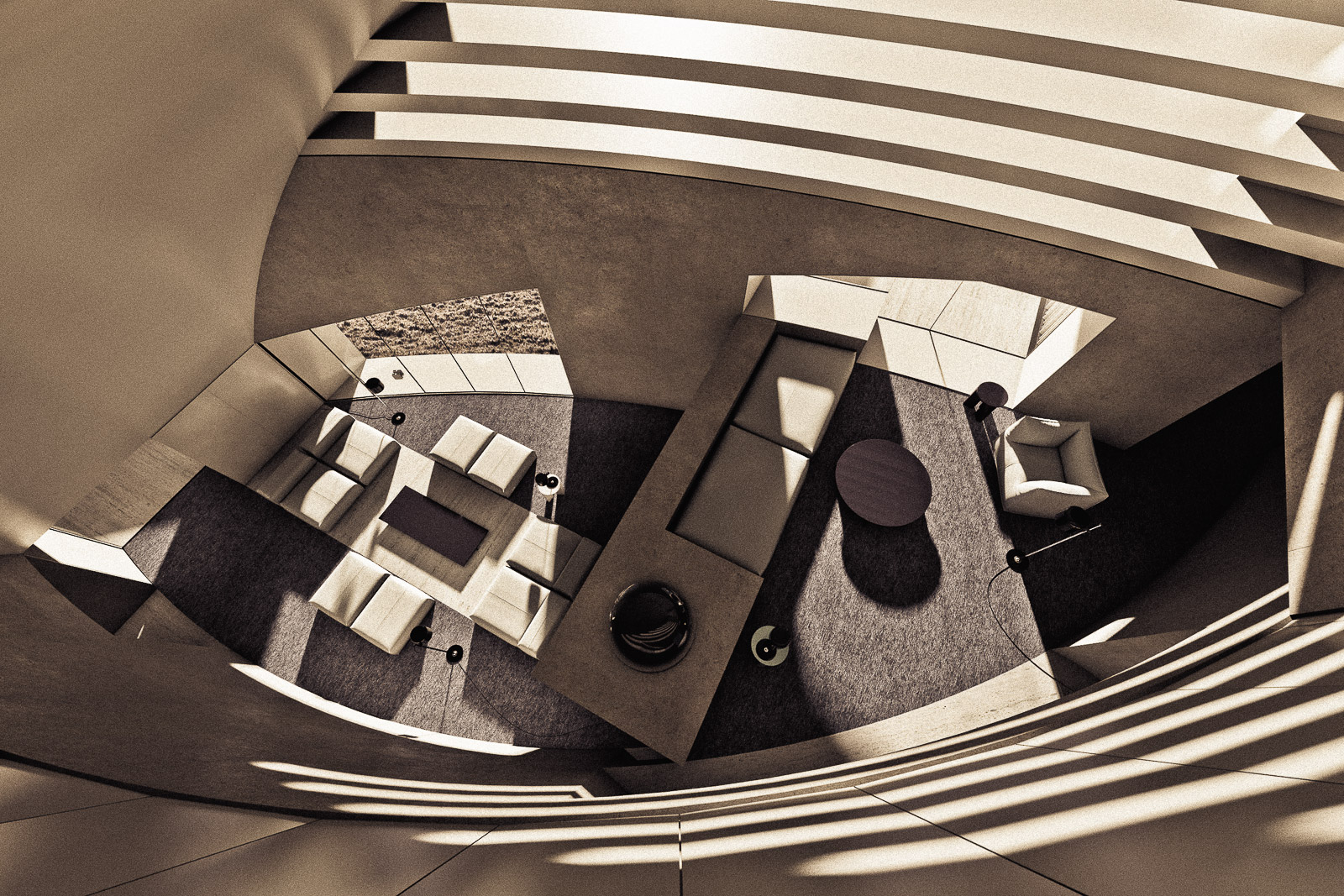 Antonino Cardillo, Purple House, Pembrokeshire, 2011.