Lumira favourite works
Annie Carroll, Sydney, 
This article was first published by Atelier Lumira, a luxury niche fragrance house based in Sydney, Australia, founded in 2013 by creative director Almira Armstrong
Architect Antonino Cardillo possesses a vision that is conceptual and yet completely rooted in a historical understanding of classical architecture. Born in Sicily, Antonino's work has spanned the conceptual to the commercial and bespoke residential. In short: he's no one-trick pony. His understanding of space and balance has resulted in some of the most influential interiors of recent times, and his willingness to push beauty and form to its most abstract continues to result in that most elusive of architectural outcomes: an emotional, human response. His unique oeuvre has seen him and his game-changing work lauded by publications including Yellowtrace, Wallpaper*, Dezeen, and Marie Claire Maison. Here, we chart three of our favourite works by Antonino.
Arguably Antonino's most famous work, House of Dust is a meticulously crafted conceptual apartment in the heart of Rome. Antonino Cardillo's magical eye for texture has resulted in a signature bumpy patina, used to strong effect on the ceilings and upper walls of House of Dust. Up close, the plaster seems to be a rough and primitive way to render surfaces. But, en masse, the material looks both furry and soft; akin to a shaggy rug and not a lumpy concrete slab. And when viewed in the final context of the dwelling, this signature plastering brings an aquatic grotto-like effect to the interiors; primal and nature-driven. Contrasting with this are elegant, lean arches that reference 14th Century paintings and contemporary, unfussy windows recessed deep into the walls. A gentle colour palette of soft musky pinks, peppermint, and terrazzo marble soften Antonino's formal approach to design. It comes as no surprise that trend-forecasting agencies WGSN, Textworld and the Noroo Pantone Colour Institute have all recognised House of Dust. The apartment may have roots in a deep well of visual references, but the entire effect is one of forward-looking vision.
Antonino Cardillo, House of Dust, Rome, 2013. Photography: Antonino Cardillo
Crepuscular Green —⁠ ⁠an interior refurbishment of a Roman art gallery —⁠ ⁠presented Antonino with the opportunity to imagine a space not restricted by permanent residents. After all, an entire interior rendered in shades of green is not going to suit everyone's tastes. But in this San Lorenzo gallery space, the abundance of green exudes energy and draws the eye to the textures and shapes employed by Antonino. Inspired by Richard Wagner's Das Rheingold opera, Crepuscular Green sees Antonino's rough plaster technique used, once again, on the upper walls and ceilings of the single room space to create a cave-like sensation —⁠ ⁠at once intimate and elemental. A rounded alter at one end of the space features a mirror arched bridge and suspended slab above. Natural light filters through windows by day, and at night, two black lamps —⁠ ⁠the only non-green items in the space —⁠ ⁠emit diffused light to the ceiling. But it's in the moment between day and night —⁠ ⁠twilight —⁠ ⁠that the ultimate lightness and effect of Crepuscular Green comes truly alive.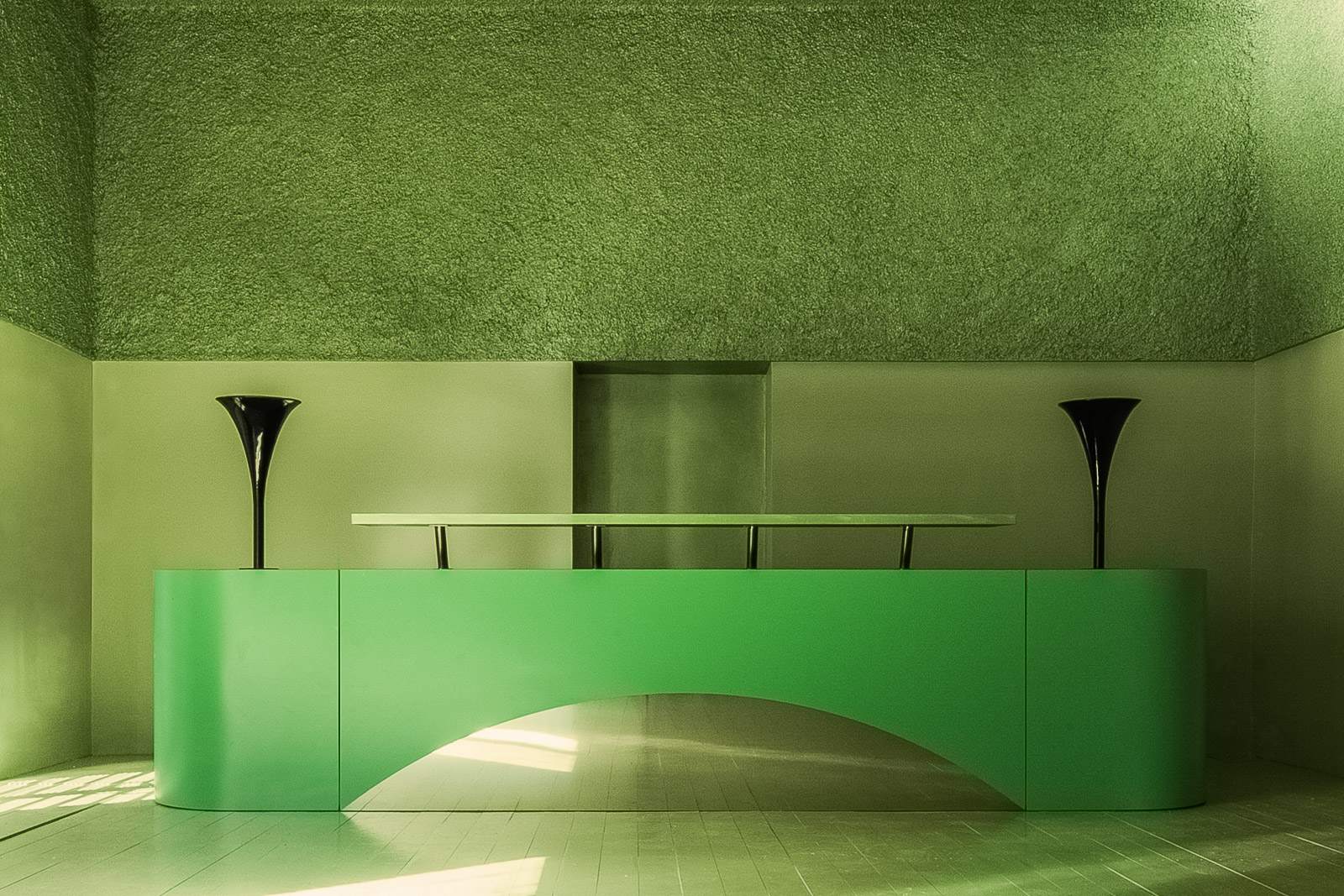 Antonino Cardillo, Crepuscular Green, Mondrian Suite Art Gallery, Rome, 2014. Photography: Antonino Cardillo
Silence and space act as prisms for energy and light to flow through in Antonino's Colour as a Narrative —⁠ ⁠a concept store for Illuminum Fragrance in central London. There's a nostalgic sense of the future about this structure, as if it had been envisioned for today's world some time ago. It's decidedly contemporary and abstract, but unlike the empty voids of other modern architecture, Colour as a Narrative is primitive and rich with the markings of human labour. Literally. Employing his rough trowel- plastering once again, but this time to the entire length of the walls and ceilings in a soft hazy grey, the interior is an ideal backdrop against which to experience the sensory delights of high-end fragrances by Illuminum. Suspended in a semi-circle from long black ropes, glass orbs contain individual scents that are, as Antonino puts it, 'invisible colours'. Delicate and ephemeral highlights mix with the earthy textures of concrete slabs to create a retail experience unlike any other.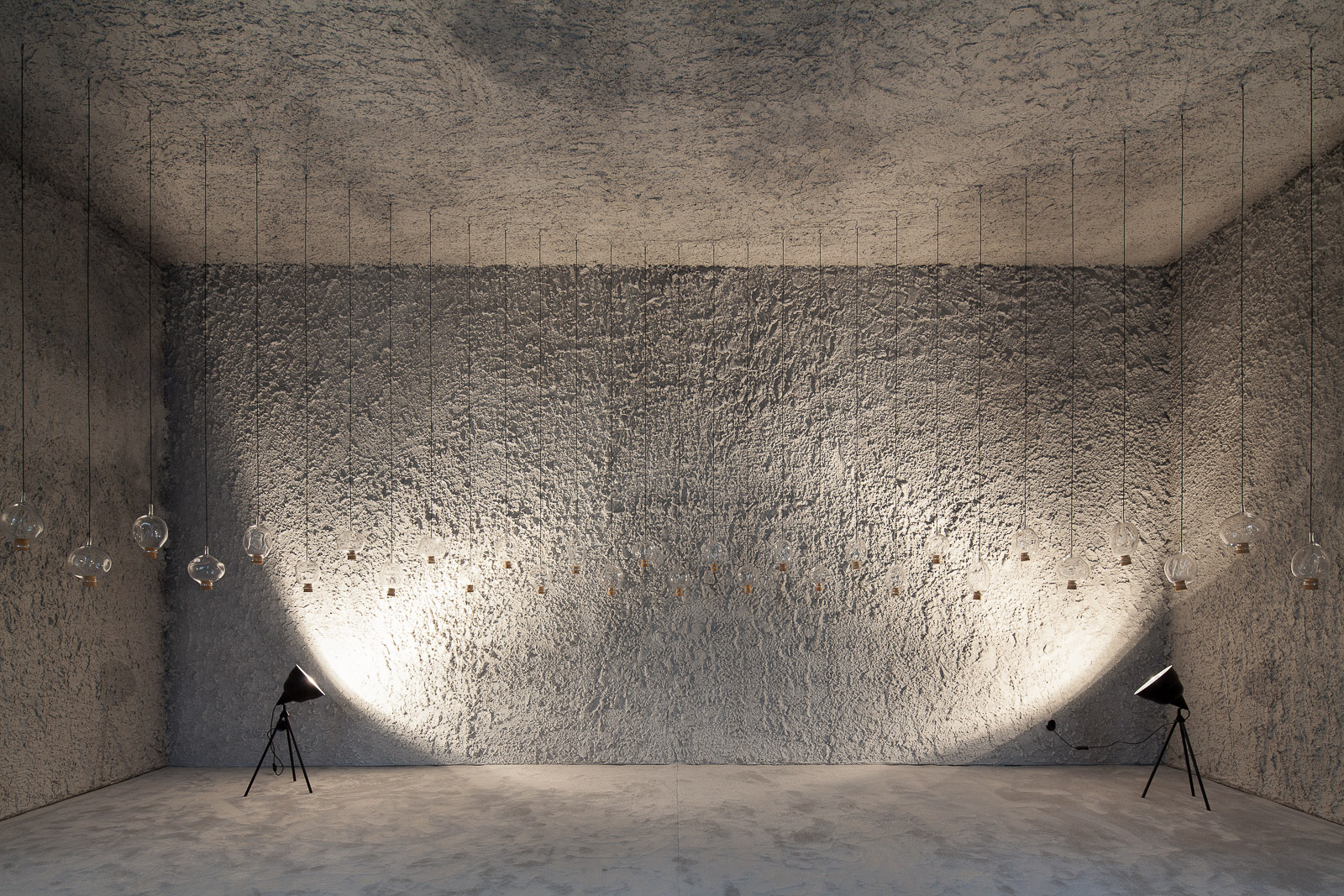 Antonino Cardillo, Colour as a Narrative, London, 2015. Photography: Antonino Cardillo