A shop with no products in sight
Jessica Cooper, Paris, 
Article
Eclectic AW15
Colour as a Narrative
Somewhere on Dover Street, round the corner from high-brow Mayfair filled with the hustle and bustle of shopaholics frantically shopping in the luxe houses of Chanel, Prada and Dolce & Gabbana, there lies a fairy tale grotto filled with tranquillity and calm. Once entering this space, I feel that all time has stood still. Suddenly, I am not filled with my shopper's impulse.
Here I am. I have stumbled into Illuminum's perfumery boutique in London. Except it's unlike any other boutique in Mayfair: the place is a sanctuary. Before I can even step in I must remove my shoes and am given a pair of soft white slippers. The grey carpet beneath my slippered feet is thick and lush. But it's the walls that take my breath away —⁠ ⁠the whole room has been coated with volcanic grey ash (from Mount Vesuvius in Naples) angrily trowelled on the wall is almost primate-like and angry in its essence. But it's unusually soothing. This space is pure luxury: encasing and enveloping you in its womb-like privacy —⁠ ⁠a far cry from the madness outside.
Taking me briefly away from my semi-hypnotic state, a soft speaking sales assistant asks me whether I would like some green tea and am offered a dainty matcha tea-cake ball. And what was I here for? Perfume. Except…where's the perfume? Where are the stunning bottles that often sway my opinion of the perfume I want to buy, regardless of its scent? Where are the counters and pushy sales assistants?
Instead, suspended by only a thread are thirty-seven irregularly shaped glass 'bubbles' —⁠ ⁠enclosed in each bubble lies an Illuminum scent, waiting for you to uncork and discover an unnamed, evocative scent. All you must do is explore this perfume playground, and I find myself uncorking every glass bubble to find one that calls to me. The Illuminum boutique encourages you to select a fragrance that beckons your pure instincts and subconscious. Like a perfumed siren.
Illuminum encourage the scent hedonist to discover a scent that calls to you and you can identify with: scents associated with feelings and memories. Wandering around, I come across a scent and find myself saying: "This smells of something familiar. From my childhood… but I don't quite remember." It's amazing how a scent can triggers thoughts from the subconscious, as memories I have forgotten are suddenly remembered.
In this room with no colour, the haute couture scents explode with colour and life, making the room alive. Illuminum has created a multi-sensory space where people can purchase Illuminum fragrances and have shattered our preconceived expectations of the 'buying experience'.
Behind this romantic grotto is the Sicilian bred architect Antonino Cardillo who is globally well known for his distinct love for sensual forms and the use of natural materials. Cardillo is the second artist invited by Illuminum to transform their boutique as part of Illuminum's artist and architects collaborations. Throughout the year, Illuminum's boutique will change (as they say, nothing good can last forever) as Illuminum continues with their quest for challenging the boundaries of scent and perfumery.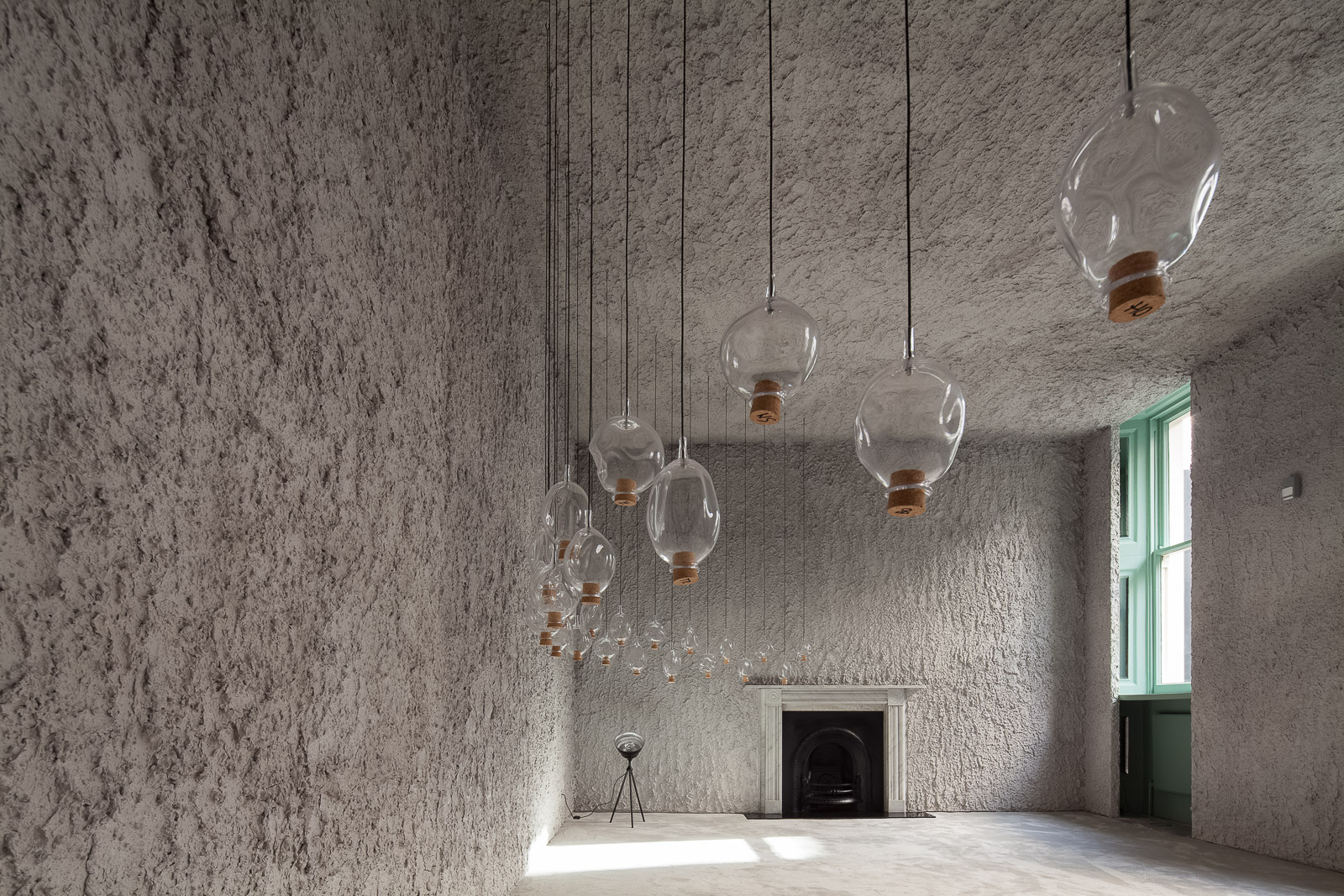 Antonino Cardillo, Colour as a Narrative, Illuminum Fragrance, London, 2015. Photography: Antonino Cardillo